WHERE IN THE HELL IS LITTLE ORLEANS AND HOW DO YOU GET THERE??
According to Wikipedia:
Wikipedia
Little Orleans is an unincorporated community and census-designated place in Allegany County, Maryland, United States. As of the 2010 census it had a population of 42. Little Orleans is located on the Potomac River at the mouth of Fifteenmile Creek across from Orleans Cross Roads, West Virginia. Little Orleans was served by the Chesapeake & Ohio Canal, and by the Western Maryland Railway, both of which have been abandoned. "Bill's Place", a restaurant and store, is located adjacent to the canal. An annual event hosted by Ken Appel, "Apple's East Coast Motorcycle Rally" attracts thousands of visitors every August to this otherwise sleepy little town.
Little Orleans, Maryland
OUR VERSION:
Apple Mountain Team
Little Orleans is in Western Maryland. Far from the Rat Race in Spirit but not so far in miles! A 2 hour drive/ride from the center of Baltimore or Washington DC. 2 1/2 hours from Pittsburgh, Pa. 3 hours from Richmond Va.

Located in the Allegany Foothills. Don't let the word "foothills" fool you though, Little Orleans is in the mountains. Big beautiful mountains! ( don't want to ride off em' mountains) That's the best part about Little Orleans. The scenic roads, winding, climbing, descending and intersecting. They are all incredible riding and all seem to lead to one place, APPLE MOUNTAIN home of the
APPLE'S " EAST COAST MOTORCYCLE RALLY "
Little Orleans has very little but a lot to offer!
Sitting right in the middle of nowhere can be a very good thing. Is there a main street? No. Is there a thousand hotels and restaurants right here? No. And forget about a white sandy beach! Hmmm, does this sound that great? Well let's look a little deeper at what else is missing from here that the "average" motorcycle rally probably has:
BUMS, LOWLIFES AND GRIFTERS! AND THAT IS JUST TALKING ABOUT THE POLITICIANS AND CITY MANAGERS TRYING TO SQUEEZE AS MUCH OF YOUR MONEY OUTTA' YOU THEY CAN FOR SETTING FOOT IN THEIR TOWN. RAISING REVENUE BY TICKETING, PERMITTING AND HARASSING YOU! AND THEN IF YOU MAKE IT FROM YOUR BIKE TO ONE OF THE "BUSINESSES" THEY WILL BE INFLATING THIER PRICES ON YOU. THIS SEEMS TO BE A COMMON THEME AT SUCH EVENTS. AND IF THERE IS ANYTHING LEFT WHEN THEY FINISH WITH YA' THEN WATCH OUT FOR TRAFFIC OR FALLING VICTIM TO THE INEVITABLE STREET LEVEL CRIMINALS. THESE ARE JUST A FEW OF THE THINGS THAT USSUALLY AWAIT YOUR ARRIVAL.


On the other hand out here in the "Big Country" you have a small community that embraces you presence and appreciates your business. Since year one of this rally the local residents, county government, law enforcement and rescue services have all commented how the bikers are polite, thoughtful and fun to have around. No one is lurking around the corner waiting to get you. There is no corner!
Come to Apple Mountain, Relax and be Yourself!
Great riding, Real Freedom, Great People!
LITTLE ORLEANS, WESTERN MARYLAND MOUNTAINS
IT'S GREAT TO US, NOW YOU DECIDE.

Of coarse the easiest way to find us now-a-days is GPS
31307 Oldtown Orleans Rd SE
Little Orleans, MD 21766
FOR YOU OL'SKOOL FOLKS
OUR DIRECTIONS to ECS:
Find interstate # 68
( in Western Maryland ) 12 miles west of Hancock or 23 miles east of Cumberland you take EXIT # 68 (off of interstate 68)
( Orleans Rd south ) follow 5 1/2 miles cross low water bridge, turn right 1/2 mile on the right.
RIDE SAFE!
21 & OVER * NO DOGS * NO FIREWORKS * NO COLORS * NO WEAPONS * NO ATTITUDES

A VERY UNIQUE BAR
"BILL'S PLACE"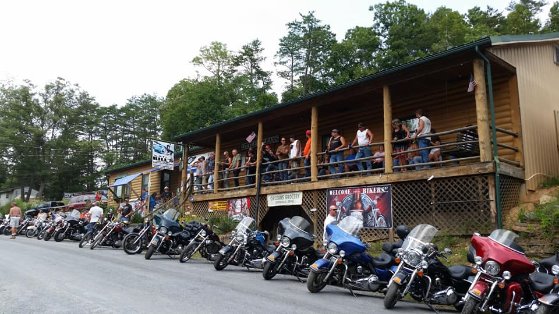 BEER, BOATS AND BAIT the sign over the road boast. But what "Bill's" really has to offer is character. Located, well, n the middle of nowhere. Luckily though about a mile from Apple Mountain and the front gate of Apple's East Coast Motorcycle Rally. This place has been catering to Locals, Bikers, campers, fisherman, hunters, hikers, boy scouts and many others. And in some strange way all walks of life have always existed harmoniously. And the late "Bill Shoenadel" ran the Bar like he was the Mayor of the mountain and looked out for his customers. Bill's son Jack was by his side from his beginning and keeps the spirit alive. Not saying the boy scouts or the church ladies patronizing would condone everything that may happen there. Could you see a naked rider doing a burnout in the street out front? Maybe. All in the name of fun and freedom!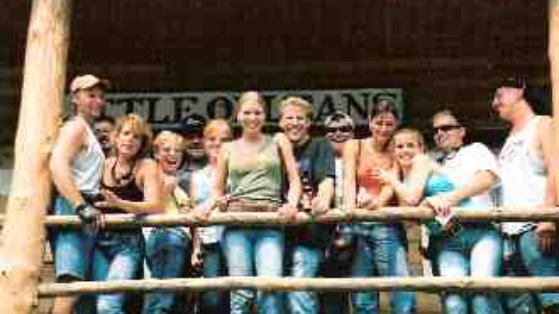 "Where Friends Meet"
During the Rally "Bill's" is a must visit spot. Band's, bikes and brotherhood become the common theme. Oh yeah, and often beer. Lots of beer.